RITES OF PASSAGE
Turning Toward The Morning
Stories of love and loss, of grief and hope
We are in the process of upgrading the quality of Turning Toward the Morning and adding a fourth and final story. Read about Jessica¹s Story and see the trailer.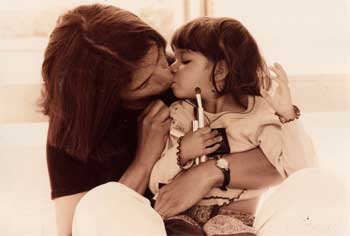 Hauntingly beautiful!
A video of unusual power and beauty, Turning Toward The Morning brings to light stories of parents who have lost a child to illness, to accidental death and to suicide. Filled with the special wisdom of dying children and the heartfelt thoughts of their parents, its message is one of hope, not only for bereaved parents but for all of us. In the very short time since its release, Turning toward the Morning has brought solace and comfort to many hundreds of people.
"Turning Toward the Morning is a celebration of the human spirit. It is one of the most powerful expressions of love, compassion and transcendence I have ever seen. It is a reminder that we humans, for all our faults and failings, also contain the Divine. We are capable of great strengths, great visions, and great wisdom, which often surface in the wake of great pain. Watch this documentary with someone you love, and be prepared for magic."
-Larry Dossey, MD, author of "Healing Words", "Reinventing Medicine"
---
"A visual presentation of narratives of loss and grief, Turning Toward the Morning's unique contribution to the field is in its story telling method. This 40 minute video is set to music by artists that range from Deep Forest to The Texas Boys Choir. All the stories are told in print on the screen. Reading the text of the featured individual's thoughts and experiences gives voice to each story. This unique narrative method combined with the musical score provides an excellent opportunity to focus on particular aspects of loss and grief. Cindy and Andy Pickard have brought the arts and humanities to the experience of grief. Turning Toward the Morning is a powerful documentary."
Lynne Ann DeSpelder, coauthor, The Last Dance: Encountering Death and Dying
---
"Turning toward the Morning is a powerful video that takes the viewer through the storms of grief but also carries them into the calm on the other side. As a bereaved parent, I am excited to know that there is a media tool available that depicts the loss of a child so accurately and completely. Thank you Rites of Passage for your commitment to those of us who need you."
-Sandy Goodman, Author of "Love Never Dies: A Mother's Journey from Loss to Love"
---
"My congratulations on a strong, thought-provoking product, of considerable emotional impact. May its message offer reassurance and courage to all those who encounter it."
-Ben Steinberg, Composer-in-Residence Temple Sinai Toronto Ontario
---
"I watched Turning Toward The Morning with a lump in my throat, tears in my eyes and a sense of profound awe and sacredness. The combination of music, stories and the way it was presented touches the spirit so deeply that I was left speechless, and that was good. For words could not describe what I was feeling and would only have gotten in the way. Long before we even got to the middle of the video I knew I needed a personal copy and a copy for our grief support department to use with groups. I continue to remember the music and pull up the images on the screen. I was left with a deep sense of the mystery of life and transcendence. Since watching Turning Toward The Morning I live life with more passion, compassion and hope."
Robert J. Bos, M.Div.
Coordinator of Special Programs
for Community Grief Support
Hospice of Michigan - Grand Rapids
---
Turning Toward The Morning was screened at the 2002 Damah Film Festival
October 11, 2002 ~ Seattle Art Museum, Seattle, WA
Turning Toward The Morning
---
| | |
| --- | --- |
| Individuals $29.95* | |
| Organizations $59.95* | |

We provide purchase of our videos through Paypal, a secure, online payment system. Just click the Add to Cart button above to purchase. If you prefer, you may use our Order Form to order by mail or fax. *Plus $6.00 shipping & handling.