RITES OF PASSAGE
Between Now and Forever
Articles and Endorsements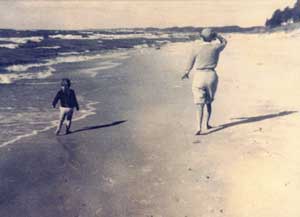 Finding Peace
Exhibit spreads hope to anyone dealing with grief
By Juanita Westaby
© copyright 2002 The Grand Rapids Press
From her office at the Good Grief Center, in Munhall, Pa., Lulu Orr could watch ordinary people try to walk past the extraordinary stories before them.
"The people from the health club next door were coming up in their shorts and with their gym bags and they would stop in their tracks and start reading," she said.
They read about tragedy. About loss. About death. About what living with an irreplaceable hole in one's life is like. And, about eventually finding meaning and hope.
The unsuspecting health-club members had encountered the world premiere of "Between Now and Forever: A Multimedia Exhibit on Loss, Grief and Healing and the Resilience of the Human Spirit."
The presentation, which showcases story after story of heroic living in the face of devastating loss, appears this week at Grand Rapids Community College.
The college, three Kent County hospitals, four area hospice centers and other local sponsors hope West Michigan doesn't look away.
"In order to effectively deal with grief, you have to recognize it," said Mike Faber, coordinator of the Older Learner Center at GRCC. "This event's going to put it right out there for people."
The exhibit deals with a variety of losses, including the story of a 10-year-old boy who tells what it was like to lose his firefighter father on Sept. 11. It could benefit anyone who's experienced grief, including the loss of innocence after the events a year ago.
"There has to be a concrete way for people to pay tribute and honor what happened a year ago," Faber said.
"I really think our society has been exposed to grief since 9/11 in a way they've never been exposed before," Orr said. "If they come see this exhibit, they'll see the hopefulness. They're sad stories on their own, but the way this is put together in these pieces, it gives you hope."
"We don't necessarily want to focus on Sept. 11, but we're probably going to be thinking about the losses and the resilience of the human spirit," said Georgiann Greeman, bereavement coordinator for Visiting Nurse Service Hospice of Grand Rapids.
Although the exhibit is the work of hospice specialist and multimedia artist Cindy Pickard of Vanderpool, Texas, local agencies have pulled out all the stops, too. Included in the four-day exhibit are more than 15 workshops, a memorial table for bringing mementos to share and a crew of grief companions offering private sessions. All of it is free.
"This is really a community-wide effort," Faber said. "It shows you the level of expertise right here."Helping others heal
Pickard started on her own grief journey at age 9, after losing her mother to cancer.
"It was really before people were told about their illnesses. My mother wasn't told, so she couldn't prepare us," she said.
She drifted aimlessly for years, before ending up with an occupational therapy degree she didn't think she could use. She picked up photography, but dropped the hobby. Someone invited her to a talk by grief pioneer Elisabeth Kubler-Ross, and she found her purpose.
She began doing hospice work, encouraging her patients to paint pictures, make scrapbooks and write poems to help with their own losses and impending deaths. Pickard photographed them.
While running her own hospice, called Rites of Passage, Pickard put together multimedia projects on AIDS. Her exhibit "Gathering of the Wisdom People" was exhibited at GRCC in 1999.
For "Between Now and Forever," Pickard relied on what she called "the whole synchronicity thing" of being the right person, in the right place, at the right time to gather stories.
She has no other explanation for flying into New York City after the terrorist attacks, with no direct contacts, and being drawn to the picture of deceased firefighter Matthew Rogan.
"I happened to see that picture, and it stayed in my mind. The place where I was staying was a Catholic convent attached to a school. One of the nuns I stayed with had counseled this man's son, and she thought he might be interested in talking to me."
Her openness to stories about grief have taken her to sit with a Cree chief, a Nazi death-camp survivor and a Muslim father whose son was killed by gang members in a pizza delivery robbery.
The Muslim father, Azim Khamisa, followed his faith, which limited his mourning to 40 days, then encouraged him to turn his grief for good. Khamisa reached out to the grandfather and guardian of the young man who killed his son. The pair bonded.
"Now they speak all over the country about violence and forgiveness," Pickard said. "That's another example of taking something horrible and doing something good for the world."'A framed support group'
All of these stories are part of Pickard's exhibit.
The exhibit includes the video Pickard produced, called "Turning Toward the Morning," which has been selected to be screened at the Damah Festival in Seattle, a spiritual film festival. "Walking Us Home," another award-winning video that talks about hospice care, also will be shown.
Pittsburgh resident Marilyn Chapla, who attended the exhibit to accompany a girlfriend, described the exhibit as "a framed support group" among the portraits.
"What I didn't expect was to be so moved from all the different stories," she said. "I had to go back because it was too powerful to take it all in at once."
Chapla, who lost her partner in 1999, said, "Each piece just tells how they went through terrible times, but they bounced back."
"It's not really a recovery," said Spectrum Health Bereavement Coordinator Nancy Kingma. "It's learning to live with that loss. It's not back to the place where they were. It's basically finding a different place, a different normal."
That's what a lot of us are adjusting to, post Sept. 11.
"This is going to be a very difficult week," Orr said, "and people are going to be in need of things that are not related to 9/ 11, and yet addresses some of that grief, too. This acknowledges that it happened and that grief happens every day."
The exhibit is "artistically a great thing to see," said Robert Bos, Hospice of Michigan's coordinator of special programs. "It's really going to touch our spirits that we're not alone on this path of grief. We can see what they're dealing with and what we're dealing with and how those two things connect."
Bos said the memorial table, where local people can bring mementos to share, and the availability of trained grief companions are just as key as the exhibit, the films and the lectures.
"You can go to a grief support group or hear a lecture. But this is going to be so visually compelling that it's going to touch you in a different way. When you put all these things together, you're going to have more than the sum of the parts," he said.
For Pickard, who will be in Grand Rapids during the exhibit, there is one huge benefit for her: the peace that comes to a 9-year- old girl who finally understands why her mother had to die and why she had to go on living without her.
"I wanted to create this beautiful, peaceful space," Pickard said. "But a lot of it -- maybe the biggest part of it -- is, I learned ... our similarities are bigger than our differences. There's so much similarity and common ground in grief. This is my way of making peace."
---
The Good Grief Center for Bereavement Support, located in Munhall, Pennsylvania is a new non-profit organization that opened in 2001 to help serve the bereavement needs of the people of Pittsburgh and surrounding communities. The mission of GGC is to provide a resource center and safe place where all who have experienced the pain of death may come to work through loss and learn to manage grief. One way GGC fulfills its mission is to provide education about grief issues. In keeping with our mission, the Good Grief Center hosted the world premier of Between Now and Forever on May 16, 2002. This amazingly powerful exhibit was received in the Pittsburgh community with overwhelming enthusiasm. Over 300 people gathered for the opening evening. During its two-week run, it continued to attract people from all walks of life. At a time when grief and loss have become an issue of national concern every community should be given the chance to experience this exhibit.
Rites of Passage has made a unique contribution to our society by illustrating through the personal stories of 15 people the compassion and sensitivity that people rarely see in this often avoided subject. Between Now and Forever elicits many emotions and comments from those who explore these heartfelt stories. One woman said, "It is a beautifully put together project. From the framed pieces to the video ­ one can¹t help but be moved by these stories." Yet the common thread that seemed to run through all who visited the exhibit was the message of hope. A young woman in her forties remarked, "I don¹t know how they put together such a show based on very sad stories that make you feel so hopeful." One can¹t help but recognize the beauty and resiliency of the human spirit after experiencing Between Now and Forever. In fact, many people have been so moved they return to spend more time with the various pieces. While others return specifically to re-watch the moving video Turning toward the Morning.
Between Now and Forever is an exhibit and has many pieces, but they fit together so well. The framed pieces, the music, the memorial table, the video and the grief workshop all collectively help grieving people realize they are not alone with their pain. The exhibit reaches out to examine a dark subject and seeks to provide education and information on grief, loss and most importantly ­ healing.
The grief workshop that is a part of Between Now and Forever is also first rate. Many professionals said it was one of the best they have ever attended. The lay community was also represented and found it to be a significant part of their grief journey. This wonderful aspect of the exhibit allows people to not only process what they may have experienced with the stories in the exhibit, but also in their own personal lives.
If ever there was an exhibit that should be seen across this country, Between Now and Forever is it! Everyone experiences the pain from loss at some point in their life and this exhibit will allow them to better cope with the many times overwhelming emotions that go along with those losses.
-Lulu Orr, R.N., Executive Director of The Good Grief Center for
Bereavement Support Munhall, Pennslyvania
---
Cindy, your multimedia project had an impact on every person who experienced it. It was a moving, touching, reflective, real, passionate and compassionate event. After 12 years as the CEO of one of the world's largest hospice programs, I thought I had seen every way to approach the story about the value of life and the growth that happens as we experience death and loss. You have found another way that exudes honor. It also was meaningful to the people I invited who had no professional experience in bereavement. We all brought different life experiences and shared those through the event. Thank you for this enriching, energizing experience.
-Bonnie Boyle-Harvey, CEO Carnegie Library-Homestead Munhall, Pennsylvania
former president and CEO Hospice of Southwest Florida